For all of our office's responses to the Governor's May Revision, see our May Revision page here.
Our office has prepared our usual economic outlook (specifically, the "main scenario" underpinning all of the LAO's revenue and expenditure estimates), as summarized below. Our main scenario economic outlook reflects our best estimate, as of now, of near-term economic conditions, assuming that economic growth continues over the next few years. In reality, economic conditions will differ somewhat from our main scenario in the current year and every future year.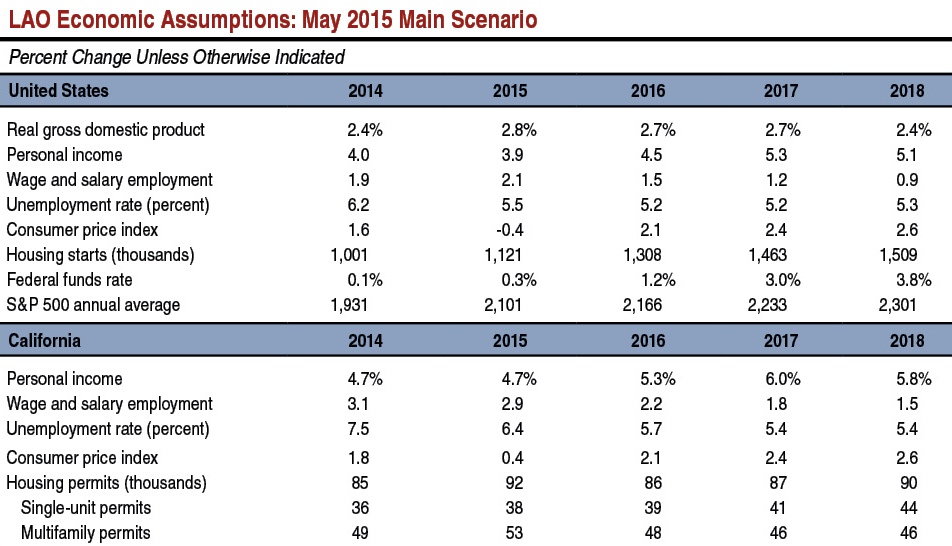 California Growth Outpacing the Nation's. California's economy is strong right now. Key measures of California economic growth (such as employment and personal income growth) are outpacing those of the nation as a whole. Through March, nonfarm employment in California was up 3.1 percent over one year before, versus 2.3 percent for the nation as a whole. Two of the strongest job growth sectors continue to be construction and professional and technical services. Construction job growth appears to result mainly from growth in nonresidential construction and building alterations. Growth in professional and technical services reflects the strength of the Bay Area technology sector in particular, as well as other professional services jobs statewide. As shown above, our office's main scenario economic outlook assumes that California job and personal income growth continues to outpace the nation over the next few years.
Residential Building Permit Projections Lowered. As shown below, our main scenario economic outlook for housing (residential building) permits in California is weaker than the administration's projections and, especially for future years, well below those of prior LAO economic outlooks. As we discussed in our November Fiscal Outlook, the number of housing permits has not returned to levels one might have expected based on recent economic growth, population growth, house price increases, improved credit conditions, and historical household formation trends. Conditions appeared to be in place for a noteworthy increase in housing permits last year, but permit activity was little changed from 2013. We suspect that changing housing preferences, changes in household finances, and limited local receptiveness to building in high-demand areas, among other factors, are combining to reduce the level of permit growth below our prior expectations. While we assume that housing permit activity remains stagnant at current levels over the next several years, some recent evidence suggests higher levels are possible. For example, March 2015 housing permits (data for which was received after we finished our key economic outlook calculations) were quite high, with multifamily-unit building permits in Los Angeles County rising to levels not seen since 1988. We suspect the strong single month of data was an aberration, but if this strength persists to some degree, it could be somewhat helpful for construction employment and as a relief valve for California's very high house prices. Our lower housing permit forecast negatively affects our upcoming income, property, and sales tax revenue estimates to a limited extent. (Still, our overall revenue projections are higher than the administration's, as we describe here.)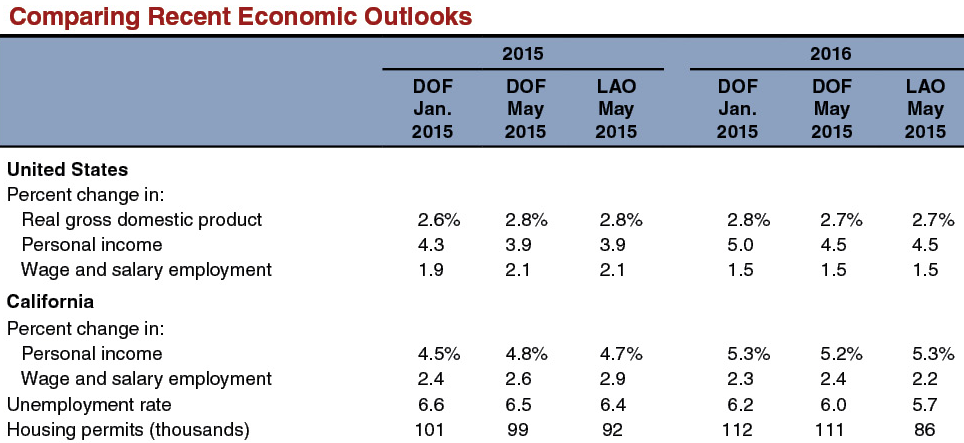 Administration Economic Forecast Reasonable. Despite our lower housing permit forecast, we generally find the administration's near-term economic outlook to be a reasonable one. As summarized above, the administration's May 2015 economic forecast is similar to ours in most respects in 2015 and 2016. Among other things, the administration's U.S. economic forecast assumes slightly higher stock prices than our forecast does in 2015, 2016, 2017, and 2018. The administration's May Revision summary correctly notes that a downturn in the stock market, when it next occurs, could be detrimental to the economy and even more harmful to California state finances. History shows such downturns can happen with little warning.
Role of the Bay Area Economy. Currently, the state relies to a significant degree on the strong economic performance of the Bay Area. With a large base of high-income, high-skill workers and a wealthy, technology-driven economy, the Bay Area is driving economic growth in California, contributing disproportionately to tax revenue growth. Both the San Jose and San Francisco metropolitan regions rank near the top of U.S. regions in year-over-year job growth. While other parts of the state also are contributing to economic growth, California's current economic and tax revenue strength would be dealt a serious blow if the Bay Area's technology economy were to stumble again. Over the long term, it will prove challenging for the Bay Area to hold on to its core technology industries. The wealth and dynamism of the technology sector is such that other states and countries constantly try to capture more of the industry.