California recorded 8,254 housing permits in September, down 15 percent from September 2020 and the lowest monthly total since February. Total permits in 2021 year to date are 21 percent above the same months in 2020 and 7 percent above the same months in 2019.
September's total of 4,875 single family permits exceeded the pre-pandemic average for the month, but it was also the lowest total since January and second lowest since May 2020. The number of permits has declined in each of the past three months. Building materials have been very expensive and shipments have often been delayed during the current supply chain crisis, and this may be hampering permit activity. Los Angeles county led with 598 units, edging out Riverside with 578. Orange, San Diego, San Joaquin, San Bernardino, Placer, and Sacramento counties also all recorded 200 or more units.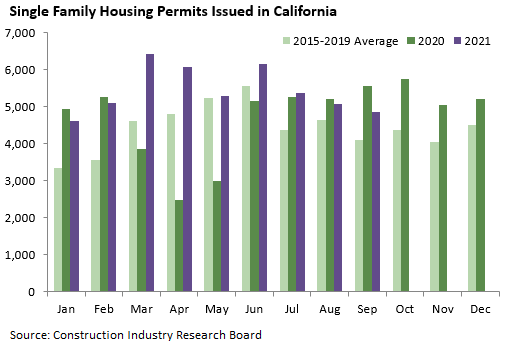 California builders recorded 3,378 multifamily permits in September, the lowest figure since February and well below the recent average for the month. Los Angeles County led as usual with 1,197 units, far ahead of Contra Costa with 413, San Diego with 372, and (uncharacteristically) Yolo with 285. No other county broke 200 units.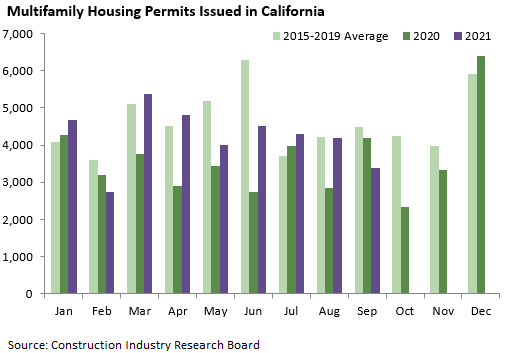 Nonresidential construction permit activity remains very weak. September's total of $1.328 billion was the highest since March, but more than a third below the recent average for the month. The industrial category was the bright spot as its total of $164 million was the second highest of the year, with more than 90 percent of the value coming from three projects in San Bernardino County.