Census Bureau Publishes Poverty Rates From Two Measures. In recent years, the U.S. Census Bureau has published poverty rates using two methodologies that approach poverty measurement differently, as described below. Both measures determine whether a household is poor by comparing the household's resources against a standard of need, known as a poverty threshold. Poverty rates are calculated by dividing the number of individuals counted as poor by the total population.
Official Poverty Measure (OPM). The OPM counts a family as poor if their pretax cash income is less than a poverty threshold that is standard across the continental U.S.

Research Supplemental Poverty Measure (SPM). In contrast, the SPM accounts for forms of public assistance not included in the OPM and adjusts poverty thresholds for a number of factors, such as the cost of housing.
SPM Poverty Rate Much Higher in California Than in Rest of U.S. Today, the Census Bureau released poverty rates based on data from 2014 through 2016. Over this period, California's OPM poverty rate was similar to the rest of the country. However, consistent with previous releases of Census Bureau data, California's SPM poverty rate—at 20.4 percent—was much higher than in the rest of the U.S. This difference can primarily be attributed to the state's higher housing costs. This rate is equivalent to about 8 million Californians being considered poor.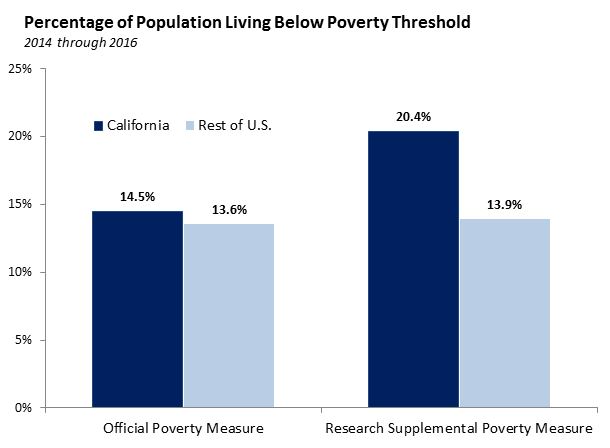 Follow @LAOEconTax on Twitter for regular California economy and tax updates.