Trade statistics released last week show that California exported $14.4 billion worth of goods in April 2015, a decline of 4 percent over the prior month. This month to month decline follows seasonal trends. We note that April exports were about 2 percent higher than exports in April 2014. As shown in the below figure, exports during the first three months of 2015 were well below 2014 levels. In this note, we discuss the likely effects that recent seaport disruptions had on California exports. We also discuss why we believe that trade will likely be restrained over the coming months due to ongoing macroeconomic factors.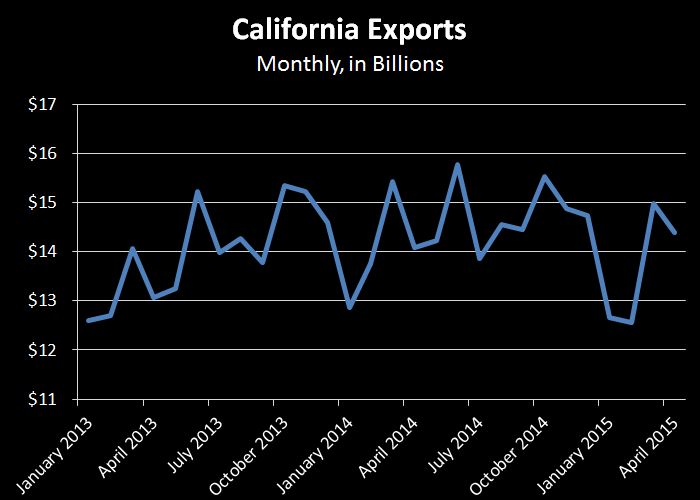 California Trade Recovering From Port Disruptions. In January 2015, we noted that ongoing labor disputes at California seaports would likely affect international trade. With the aid of additional data, the extent of the impacts of the port disruptions on the volume and timing of trade has become clearer. In particular, the volume of trade was significantly reduced during January and February by, though likely only in part, the severe congestion at seaports in California and elsewhere on the West Coast. In California, exports surged by $2.5 billion, or 19 percent, between February and March as seaport operations began to normalize and delayed shipments were processed. The seaport disruptions affected international trade over the entire United States and appears to have had a role in the decline in US gross domestic product in the first quarter of 2015.
Exports Continue To Be Restrained by Strong U.S. Dollar. Since we last commented on trade back in January, the U.S. dollar has continued to strengthen relative to the currencies of most of our major trading partners. The figure below shows that over the past year, the U.S. dollar has gained by about 15% on the Canadian dollar and by about 20% on the Mexican peso, our two largest trading partners. In addition, the U.S. dollar has appreciated by more than 20 percent over the past year against the Euro and the Japanese yen. (The currency of our other major trading partner, China, closely tracks the U.S. dollar.) The strength of the dollar makes our goods seem more expensive to our trading partners and, at the same time, makes the goods of our trading partners appear to be less expensive here. Should present currency exchange rates remain unchanged, or continue along this trend, the trade deficit will likely widen over coming months.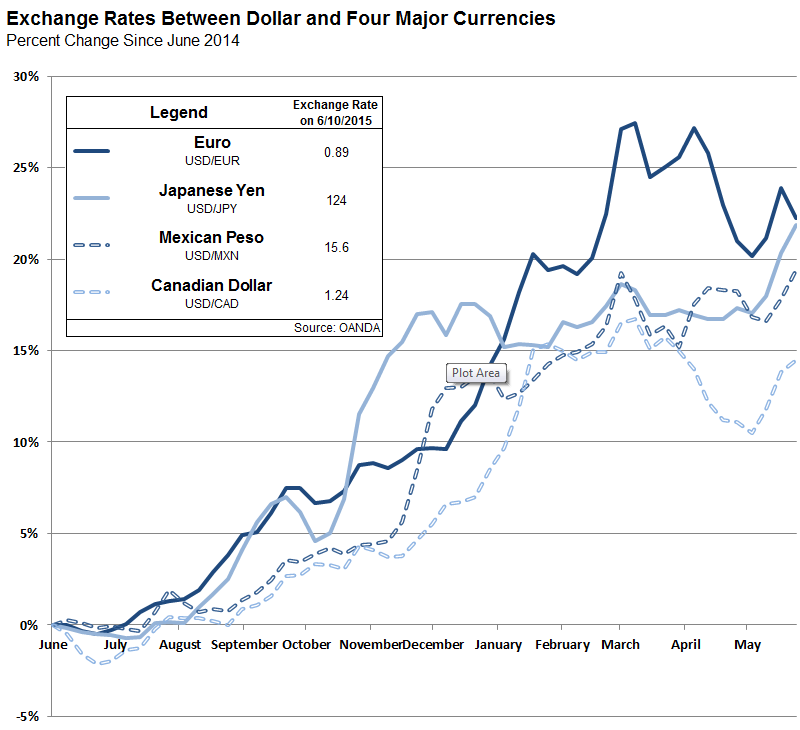 International Trade is Important to California's Economy. California has a large and diverse economy with a significant number of jobs in sectors that benefit from international trade, including agriculture, manufacturing, professional and technical services, wholesale trade, and transportation and warehousing. In an economy this diverse, it is difficult to characterize how current trends in international trade will affect the California economy on balance. On the one hand, California farmers and manufacturers could be harmed by reduced international demand for their products. On the other hand, much of California's trade-related employment is oriented around shipping, warehousing, processing and otherwise adding value to goods flowing to and through all of North America through our major ports of entry; increased imports could benefit these California businesses.