Statewide Minimum Wage Will Increase On January 1st. The first minimum wage increase under California's new law will occur on January 1, 2017. On that date, the statewide minimum wage will increase from $10 per hour to $10.50 per hour for employers with 26 or more employees. (This requirement will apply to employers with fewer than 26 employees one year later.)
Some Local Governments Will Have Higher Minimum Wages on January 1st… The initial increase to $10.50 per hour will affect workers in most parts of the state. In some places, however, local governments have already raised their minimum wages above $10.50 per hour. Most of these local governments are city governments in the Bay Area. The figure below shows which Bay Area cities already have minimum wages that will be higher than $10.50 per hour on January 1st. (Additionally, San Diego's minimum wage—not pictured—will be $11.50 per hour.)
An interactive version of this map - with more detail on these Bay Area communities' minimum wages - is available at this link.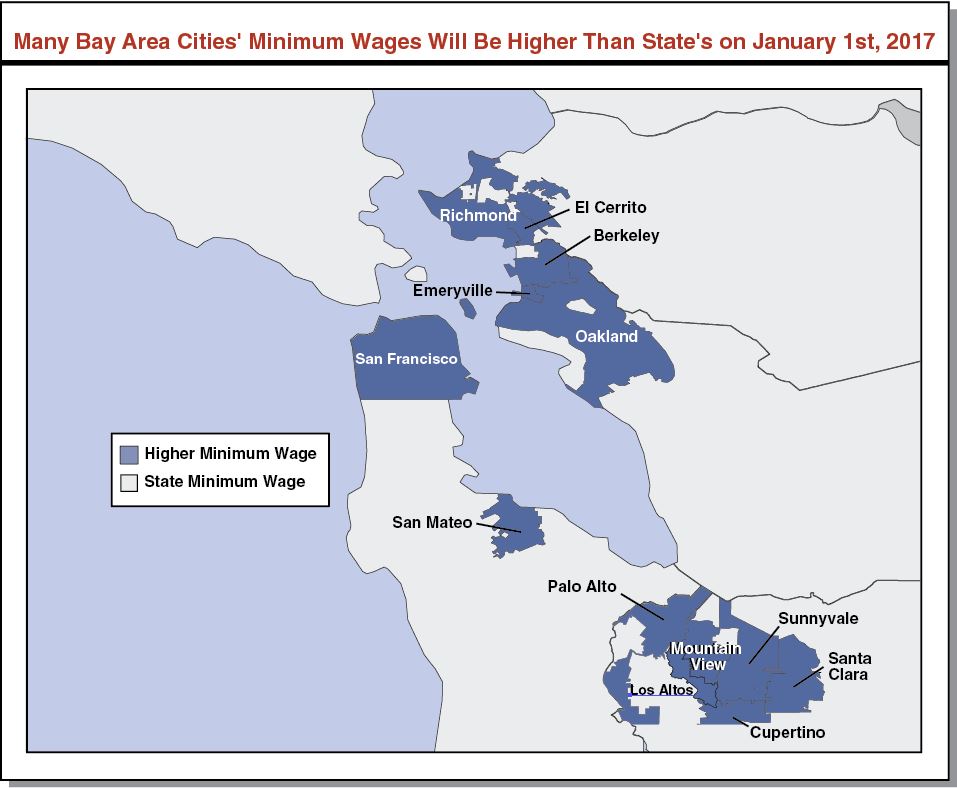 …While Others Will Have Higher Minimum Wages Later in the Year. On July 1, 2017, the minimum wage will increase to $12 per hour in six cities—Los Angeles, Malibu, Pasadena, San Jose, San Leandro, and Santa Monica—and in unincorporated Los Angeles County. (Like the statewide minimum wage increase, most of these increases initially will apply only to employers with 26 or more employees. They will apply to employers with fewer than 26 employees one year later.)
Most Local Minimum Wages Are Slightly Narrower Than The State's. Very few employees are exempt from the statewide minimum wage. Most of California's local minimum wages have some additional exemptions. Most commonly, local minimum wage laws contain provisions allowing collective bargaining agreements to waive the local minimum wage. Additionally, a few local minimum wages exempt certain types of employers, such as nonprofits.
For other posts in this series, click here.
This post was updated on December 23, 2016, to add Los Altos to the map above.
Follow @LAOEconTax on Twitter for regular California economy and tax updates.