Recent Congressional Action on the Children's Health Insurance Program (CHIP)
---
Update
On Friday, February 9, 2018, Congress appropriated additional funding for CHIP through FFY 2026-27 at states' traditional cost share which, in California, is 35 percent. No changes were made to the previous reauthorization of CHIP funding through FFY 2022-23, discussed below.
Children's Health Insurance Program (CHIP). CHIP is a joint federal-state program that provides health insurance coverage to children in low-income families, but with incomes too high to qualify for Medicaid. The state and federal governments share the cost of CHIP. In California, the federal government has historically provided a federal cost share of 65 percent (with the state providing 35 percent). Beginning in federal fiscal year (FFY) 2015‑16, the Affordable Care Act authorized an increased federal cost share for CHIP of 88 percent (a 12 percent state share) through 2018‑19. (The federal fiscal year runs from October 1st through September 30th.) However, funding for CHIP was only authorized by Congress through September 30, 2017, meaning the state would have the higher funding level only for the first three months of its 2017‑18 fiscal year. Congress subsequently provided funding for three additional months at the higher level.
Governor's Budget Assumed State Share of 35 Percent. At the time the administration was putting together the proposed budget, Congress had not yet acted on a longer-term CHIP funding plan. As such, for the purposes of the budget, the administration assumed Congress would reauthorize the program for the remainder of the state's 2017‑18 and 2018‑19 fiscal years at the lower, historical federal cost share of 65 percent, meaning the state would contribute 35 percent of the program's cost.
Recent Congressional Action Authorizes State Share of 12 Percent. Recent Congressional action appropriates funding for CHIP through FFY 2022‑23. As shown in Figure 1, the state will pay the lower 12 percent cost share for FFY 2017‑18 and 2018‑19. The state's cost share will then increase to 24 percent in FFY 2019‑20 and return to its historical share of 35 percent for the last three FFYs.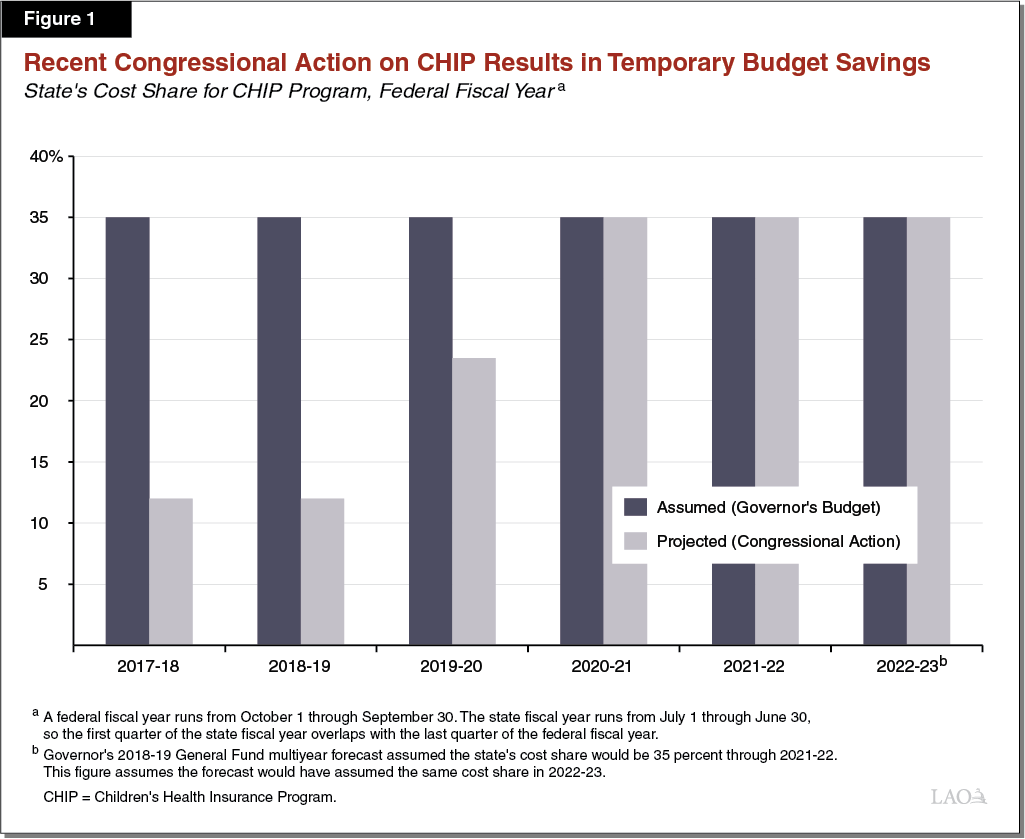 Results in $900 Million of Resources Available. This latest Congressional action results in lower state costs relative to what was assumed in the Governor's budget. Specifically, for the last half of 2017‑18 and all of 2018‑19, the state will pay 12 percent of program costs, rather than the 35 percent assumed in the Governor's budget. The administration estimates that these actions reduce estimated General Fund Medi-Cal costs by about $300 million in 2017‑18 and about $600 million in 2018‑19. As a result, we anticipate the May Revision will reflect $900 million in lower General Fund expenditures, and an equal amount of resources available for any purpose. (Other federal and state actions, and economic conditions will affect the actual change in resources available—which may be higher or lower than this amount.) As such, these budget savings will be temporary. As a result, the Legislature may want to consider using these funds for one-time purposes.