Cal Facts 2004
California's Economy and Budget in Perspective
---
Economy
California Is the World's Sixth
Largest Economy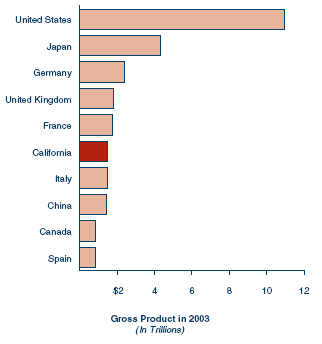 California's gross state product is nearly $1.5 trillion, making it one of the world's largest economies.
California accounts for over 13 percent of the nation's output, and trails only Japan, Germany, the United Kingdom, and France.
Our nation's next largest state economy--New York--is about 60 percent the size of California's.


California's Economy Is
Highly Diversified
Share of State Employment in 2004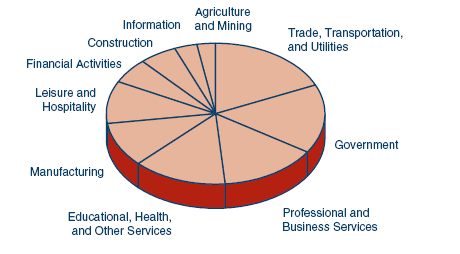 The state's economy is highly diversified, with workers and businesses in virtually every industry sector.
In 2002, the U.S. government adopted an updated system of classifying economic activities (called the North America Industry Classification System, or NAICS), to better reflect today's economy.
Under NAICS, the state's largest sector is trade, transportation, and utilities, which encompasses everything from major retail outlets, to import-export businesses, to transportation and warehousing.
Other major nongovernmental industries include professional and business services, educational and health services, and manufacturing. A new industry classification is information, which includes motion picture production, broadcasting, and Internet businesses.


Foreign Trade—An Important Source Of California Economic Activity
California Exports, 2003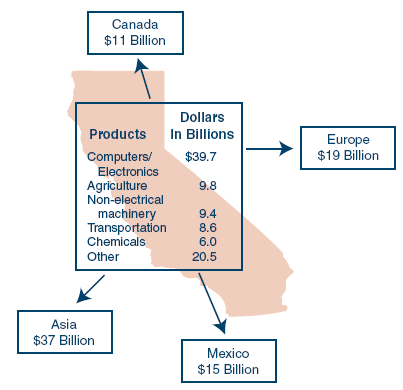 Exports of goods made in California totaled $94 billioi2003. Based on partial-year data, it appears that exports will increase by over 20 percent in 2004.
California-made exports directly account for about
8 percent of gross state product. In addition to creating major markets for products of California companies, foreign trade results in numerous jobs related to port-related activity, wholesale trade, warehousing, and transportation.


Construction and Services Have Led Job Growth Over the Past Decade
Annual Average Percent Change in California Jobs, 1994 Through 2004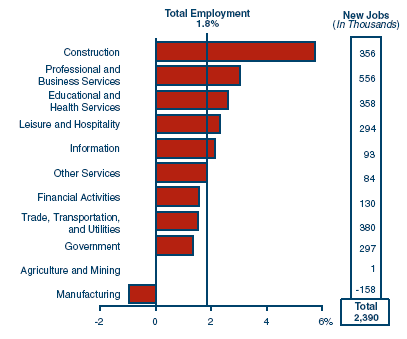 California has added about 2.4 million jobs over the past decade, an annual growth rate of 1.8 percent.
The fastest growing sector has been construction, which has grown at an average rate of 6 percent per year.
The bulk of new jobs, however, have been in the state's large and diverse services sectors.
Manufacturing declined by almost 160,000 jobs, reflecting major reductions in high-tech jobs in 2001 and 2002.


California Home Prices Have Soared
Median Home Prices by Region, August 2004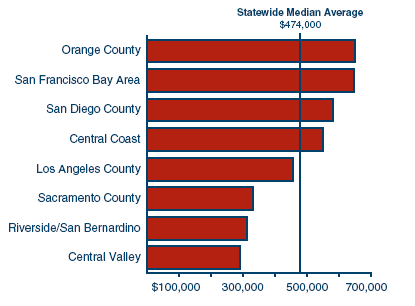 Home prices have soared in recent years, and now stand at all-time highs.
The statewide median home price rose from $250,000 imid-2000 to $474,000 imid-2004.
Orange County and the San Francisco Bay Area have the highest median prices, each approaching $650,000. The least expensive region is the Central Valley, with a median price of $290,000.


California Is the Nation's
Leading Agricultural Producer
Top California Agricultural Products by Sales
2002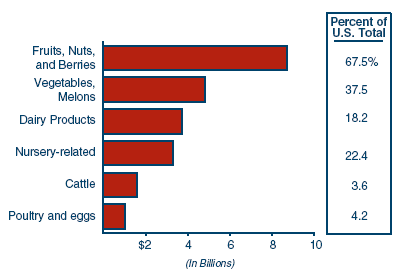 Total farming-related sales in California were $26 billioi2002. This amount represented about one-eighth of the national total, and equaled the total of the second and third largest farm states--Texas ($14 billion) and Iowa ($12 billion).
California is a major producer of fruits, nuts, and berries (accounting for two-thirds of the national total), as well as vegetables and melons (accounting for over one-third of the national total).
The state is a dominant producer of many specialty crops, such as strawberries, kiwis, and artichokes.


California Population Growth To Slow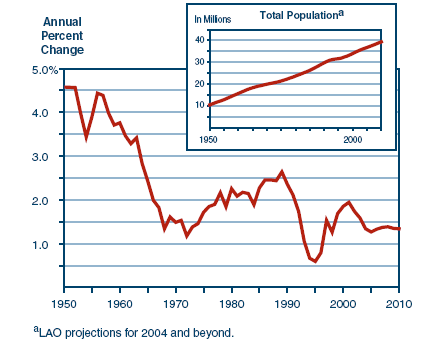 California's population grew very rapidly in the post World War II era, averaging well over 3.5 percent annually through the mid-1960s.
Average growth since then, while still about twice that of the nation, has slowed to somewhat under 2 percent annually.
Despite this slower growth, California now has roughly 36 million people, and has been adding more than half-a-million people yearly (adding a city the size of Long Beach each year).
Growth should taper in the future, reflecting stable in-migration and the on-going general trend of reduced fertility.


The Inland Counties Have
Been Growing the Fastest
Total Population Growth, 1999-2004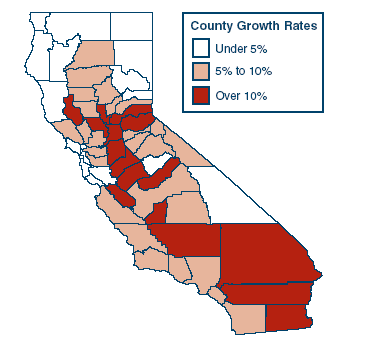 The highest population growth rates have occurred mainly in the Central Valley and foothill counties, and in Riverside and San Bernardino Counties in Southern California.
The five Southern California counties of Los Angeles, Orange, Riverside, San Bernardino, and San Diego account for 55 percent of California's total population in 2004, and 59 percent of the total increase in population since 1999.
Los Angeles County experienced the largest absolute increase since 1999--more than three-quarters of a million new people, or a quarter of statewide growth.


California's Age Mix Changing
As Baby Boomers Grow Older
Population Change—2004 Through 2010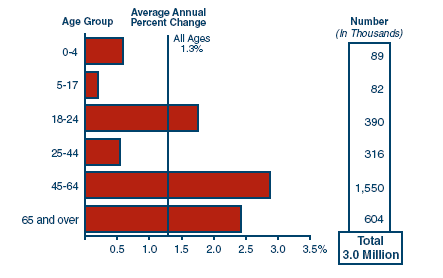 Californians' average age is increasing, as baby boomers enter their 50s and continue to cause rapid growth of the 45-64 age group.
The K-12 school-age population will grow the slowest of all groups, reflecting declines in birth rates over
the past decade and somewhat lower in-migration in recent years.


Over a Quarter of Californians
Are Foreign Born
2004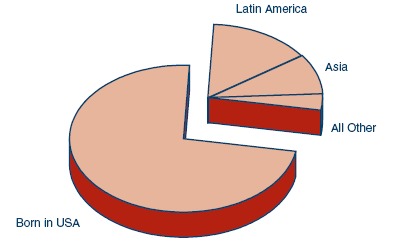 Due to strong past in-migration from other nations, more than one-in-four of California's current residents 9.5 million people were born outside of the United States. This compares to one-in-eight nationally.
About half of foreign-born Californians are from Latin America, while another third are from Asia.
Net foreign in-migration currently totals around 200,000 persons annually. This represents roughly 40 percent of California's annual population growth.


Acknowledgments

The Legislative Analyst's Office (LAO) is a nonpartisan office which provides fiscal and policy information and advice to the Legislature.

LAO Publications

To request publications call (916) 445-4656.

This report and others, as well as an E-mail subscription service, are available on the LAO's Internet site at www.lao.ca.gov. The LAO is located at 925 L Street, Suite 1000, Sacramento, CA 95814.
---
Return to 2004 Cal Facts Table of Contents
Continue to 2004 Cal Facts California's State-Local Finances